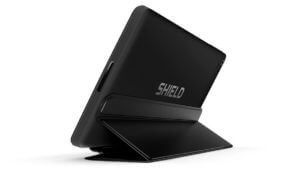 HANDS-FREE FLEXIBILITY
The sturdy SHIELD tablet K1 cover does more than just protect your tablet. It offers a variety of flexible stand positions to make gaming and entertainment more enjoyable.
RUGGED, PLIABLE DESIGN
The outer shell of the SHIELD tablet K1 cover is protected by a layer of flexible polyurethane.
ENTERTAINMENT STAND
Prop up your SHIELD tablet K1 at the perfect angle to enjoy your games and entertainment, hands-free.
KEYBOARD STAND
Prop up your SHIELD tablet K1 to easily use the on-screen keyboard.
WAKE ON OPEN. SLEEP ON CLOSE
The SHIELD tablet K1 cover can automatically wake your SHIELD tablet K1 when open, and put it to sleep when closed.
SEE WHAT'S INSIDE
SHIELD tablet K1 cover
COMPATIBLE WITH NVIDIA SHIELD DEVICES